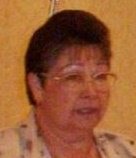 Catherine R. "Cathy" Lightbody
Catherine "Cathy" R. Lightbody, age 66, of Manahawkin, NJ, passed away at home on Monday, October 16, 2017. Prior to moving to Manahawkin in 2015 she lived in Toms River, NJ.

Cathy is predeceased by her father William Linnell, her mother Anna (Dietz) Linnell, and her brother William Linnell.

She is survived by her daughter and son-in-law, AnnMarie (Lightbody) and Brian Dockery; her son George Lightbody, Jr., her three grandchildren, Brooke Dockery, Hailey and Dylan Lightbody. She is also survived by her brothers and sister-in-laws Joseph and Linda Linnell, James and Nancy Linnell, her sisters and brother-in-laws Margaret and Alfred Peaney, Maureen Glenn Davis, and many nieces and nephews.

Cathy was loved by many and will be missed dearly.

She worked for National Protection Agency in Bricktown, NJ prior to working for Lowe's Home Improvement in Toms River, NJ.

Viewing will be held on Friday, October 20, 2017 from 2pm - 4pm at Ocean County Cremation Services in Toms River, NJ.