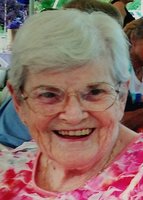 Dorothy McHale
Dorothy McHale
Age 94
Dorothy passed to eternal peace on Nov 14th. She was born in Brooklyn Dorothy Anna Winans and grew up in Ridgewood before living in East Brunswick, Toms River and Lakewood. She was predeceased by her husband George in 1993 and her son Tommy in 1961. She is survived by her daughters and their husbands Linda McHale and Dennis Glanfield and Marcia and Gene Rickle, her 4 grandchildren Gene Rickle, Jasmine Tanasy and her husband Danny Lugo, Michael Tanasy and his wife Dyana and Katy Hawalka and their children, Dana, April, Charlie, Samantha, Henry, Harper, Frida and Conrad. She loved spending time with her family.
Dorothy was proud to be the first woman business manager of the Rutgers Psychology Dept, the first woman president of the CMLC and inducted into the Natl Honor Society at OCC in her 80s. She also wrote her autobiography to share her life with her family.
She loved traveling the world, reading and studying history. A memorial gathering will be planned for her family and friends.