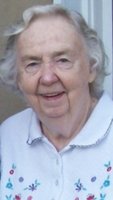 Rita A. Brennan
Rita A. Brennan 93 of Toms River, NJ, formally of Elizabeth, passed away, November 20 at Community Hospital after a short illness.
She was an active member of St. Maximilian Kolbe Roman Catholic Church, a 3rd° Comlumbiette, a Captain for the 100th Anniversary of Fatima Rosary Rally and a recent recipient of a "Rosie The Riveter" Award as well as an Army - Navy Production Award from the Simmons Company Elizabeth, New Jersey.
Rita was a former member of the Rosary Society of the Immaculate Conception of Elizabeth, graduated from Battin High School in 1943 as well as being a being both a drummer and marimba player for the Elizabeth Town Recreation Band in the 1940s.
Preceded in death by her loving husband John and survived by her son John Brennan, also of Toms River, and daughter Rita (Terry) Brennan Barkley of Wayne, MI - as well as three grandchildren - Melanie (Adam) Edlefson, Jeffrey (Jessica) Lockwood and Steven (Jacqueline) Lockwood and five great-grandchildren: Jordan, Shane, Logan and Austin Lockwood and Benjamin Edlefson.
Cremation will be private.
Funeral mass to be scheduled later.
In lieu of flowers donations may be made to the family.