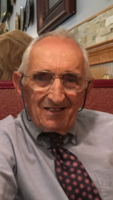 Joseph Scrudato
Joseph F. Scrudato, formerly of Brick, NJ, passed away peacefully on December 2, 2017.
Joseph was born in Jersey City on April 10, 1929 to Frank and Nancy Scrudato. Joe graduated from The Pingry School in 1947. He went on to attend one year at the Virginia Military Institute before receiving the honor of acceptance to the United States Naval Academy in Annapolis, where he attended 4-years and graduated as part of the 6th Battalion in 1952. He went on to serve in the Korean War and was honorably discharged from the United States Navy in 1956.
Joseph worked as a stock broker and insurance broker, as well as photographer both as a profession and as a hobby. He loved attending all of the activities that his grandchildren participated and was blessed to have been able to enjoy those experiences with them. He loved reading and taking long walks, he thoroughly enjoyed music and loved oompah-pah bands and was an incredibly talented organ and accordion player. Joe would tell everyone that the most important thing to do every single day in the morning and at night was to stretch!
Joseph is survived by his wife of 47-years, Carla, daughters, Vanessa and Claudette, son-in-law Jonathan, grandson Quinn, and three granddaughters, Kaya, Mara and Kacie. He is preceded in death by his parents, Frank and Nancy and his younger brother Phil.
As per Joseph's wishes services will be held on Tuesday December 12th at 12:00 noon at Brigadier General William C. Doyle Memorial Cemetery in Wrightstown, NJ. In lieu of flowers donations may be made in his name to the Alzheimer's Association at alz.org.