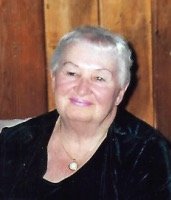 Ruth Trainor
Ruth Trainor passed away on January 13, 2018. Ruth was born on May 8, 1925 in Jersey City to Joseph and Helen Badois. Ruth married Edward J. Trainor in 1949 and they raised their five children in the Jersey City Heights. After her husband Ed passed away in 1986, Ruth moved to Toms River and, until recently, spent her winters in Florida. Ruth was truly the center of her family which included dozens of extended family members and family friends. It was very common to stop by to say hello and find several other family members/friends already there enjoying her company, seeking her advice or having a laugh. She developed incredibly close relationships with all of her grandchildren who frequently stopped by "Just to hang out with Grams".
Ruth was predeceased by her husband Ed, all of his siblings and their spouses(14) and all of her siblings and their spouses(9). She is truly the last of her generation and will be missed beyond description.
Ruth is survived by her five children: Diane(Graylynn), Edward(Lydia), John, Christopher(Maureen) and Joseph. Her beloved grandchildren: Alison, Jessica, Kelly(Mike), Aimee(Drew), Ashleigh(Mike), Emma(Jeremy), MaryKate, Erin, Joseph. And her adored great-grandchildren: Grace, Liam, Hunter, Henry, Elliott and Michael.
In lieu of flowers, donations in Ruth's memory can be made to: Meridian Hospice, 1340A Campus Parkway, Neptune, NJ 07753