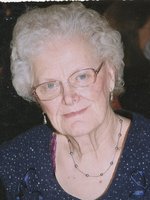 Constance H McMahon
Constance H. McMahon, age 94, of Brick, NJ, died peacefully in her sleep in the early morning hours of January 24, 2018 after a long battle with Alzheimer's disease.
Connie was born on February 8, 1923, in Welch, West Virginia. She was the oldest of five children born to George Thomas and Lessie Mae (West) Humphreys. She also had one half-sister. At 18, she moved to Washington, DC, where she met and married her husband of 51 years, Eugene Philip. While living in Washington, Connie worked for the FBI until she became pregnant with her first child. Connie and Gene moved to Iselin in 1952 with their growing family to raise their children.
A legal secretary for many years, Connie worked for the law firm of Foley & Gazi in Iselin. She was a member of the Middlesex County Legal Secretaries Association for many years and was elected President for the year 1975. She loved thoroughbred horse racing, cards, and was an expert bridge player. She was also a member of Mensa.
Connie was a devoted wife, a loving mother, and a loyal friend to many. When neighbors or friends were in need, she was the first one at their door to help, usually with a hot meal in tow.
Connie is survived by her 6 children: Patti DeCarlo (Randy); Gene, Jr.; Frank (Jackie); Dennis (Dianne); Gary (Sherrie); and Laurie McHale (Shawn); as well as 15 grandchildren and 4 great grandchildren. She was predeceased by her parents, her siblings and also half-sister Pearl, her husband Gene, and her grandson Richard.
A funeral mass will be held on Friday, February 9, 2018, 9 a.m., at St. Dominic's Church in Brick, NJ, followed by interment of ashes at Brigadier General William C. Doyle Memorial Cemetery in Wrightstown, NJ. In lieu of flowers, the family requests donations be made in Connie's name to the Fisher Center for Alzheimer's Research Foundation (www.alzinfo.org).
Connie's family would like to publicly thank the entire Lighthouse staff of Meridian Nursing and Rehab at Brick for the compassion, care and tenderness they showed our mom while she was there. We'd also like to thank the Meridian Hospice staff for the support they gave us in mom's final days. It will never be forgotten.