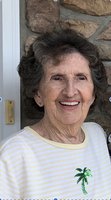 Ann M Tucci
Ann M. Tucci, 85, died peacefully at home in Toms River, NJ on November 25, 2018. She was born in Bayonne, NJ and lived in Lavallette, NJ and Islamorada, FL, before moving to Toms River.
She is predeceased by her husband of 45 years, Salvatore A. Tucci.
She is survived by her son Michael and wife Gail, her son John and wife Delta, and her daughter Suzanne, as well as grandchildren Anne, Amanda, John Jr., and Billy.
Cremation will be private.