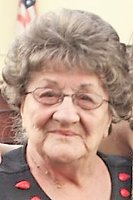 Florence Scola
Florence Scola (née Rojek) 90 of Barnegat, New Jersey
It is with great sadness to announce the passing of Florence Scola on Saturday, November 24, 2018.
Florence, formerly of Maplewood, New Jersey resided in Barnegat, New Jersey since 2010. She passed peacefully in her sleep at Genesis Southern Ocean County Rehabilitation in Manahawkin, New Jersey.
Florence is predeceased by her husband Gene, her parents, brothers and sister.
She is survived by her daughter Helaine Dawson, son Arthur Scola and his wife Corena, and daughter Maria LaSalvia and their children.
Florence will be missed by her friends and the many people in her extended family that lovingly called her Ma or Grandma.
Arrangements for a Memorial Luncheon will be announced at a later date.