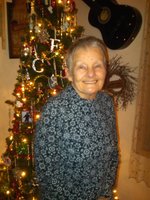 Jeanne M Serpentelli
Jeanne Marie passed January 18th 2019. She was the loving wife of her pre-deceased husband Robert
Joseph Serpentelli and her brother Robert Esch. She is survived by her sister; Evelyn and brother; George Esch both of Voctor NY; four children Eugene, Manahawkin NJ, Kathleen, Malbar Fl., John, Philadelphia, Pa and Michael, Delray Beach Fl., four grandchildren; Morgan and Jason Walker, Fl, Joseph, Waretown NJ and Jessica, Little Egg Harbor NJ; and four great grandsons'; Christian, Ethan, Aaron and Dylan, Little Egg Harbor NJ.
Jeanne was a fun loving good spirited woman who loved family, gardening, bowling, and dancing. She enjoyed traveling, especially to her mother country, Ireland, with her sister Evelyn!
She passed away peacefully after losing her battle with Alzheimers. She was lovingly cared for until the end by her granddaughter Jessica and family.
From the bottom of all our hearts, we will be keeping her in our memories for generations.
A celebration of life gathering will be held in the summer around her birthday to celebrate Jeanne.
In lieu of flowers please consider donating to the Alzheimer's association in her name 225 N. Michigan Ave., Fl. 17, Chicago, IL 60601