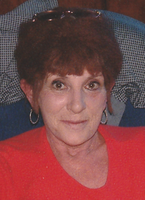 Lois Ann Colosa
Though she be but little, she is fierce.
Lois Ann DelNero Colosa, age 75, passed away peacefully on Wednesday, February 20, 2019, surrounded by family at her home in Island Heights, New Jersey. She was born September 22, 1943, in Weehawken Hospital. She is preceded in death by her beloved parents, Frank and Catherine "Kay" (Schwartz) DelNero.
Lois graduated Union Hill High School in 1961. A voracious reader, she fittingly took a job as secretary at McGraw-Hill Publishing. She later became secretary at Union City Port Authority before eventually retiring to become a full-time mother. Known as feisty and big-hearted, Lois kept a welcoming home and worked hard to take care of and entertain the many people who visited. She acted as a second mother to family friends and provided many lucky souls with her homemade meatballs and "9am Gravy". At every chance, she enthusiastically attended and cheered for any dance recital, horse show, play, hockey game, or other activity enjoyed by her children or grandchildren. She was a life-long supporter of the Yankees and Devils and took great pride that her grandson Jovanni played goalie at Toms River High School South. Most especially, Lois knew how to do Christmas right.
Aside from family and friends, Lois most loved dance. A huge fan of on-screen performers from Gene Kelly to Savion Glover, she started tap dancing at the age of 3. Despite being too short (at a solid 5 feet) to be a Rockette, she continued to learn, teach and perform throughout most of her life. She founded In Step Dance studio and taught a generation of kids and adults a love of tap, hip-hop and other genres through classes and public performances. Amongst her students, she imbued her granddaughter Devyn with her passion for dance, a bond they will forever share.
She is survived by her husband of 50 wonderful years, Richard. Together they raised three adoring children, Stacey Lucas, Renee Pasalano and Christopher Colosa. She was cherished by her nieces Michele and Denise, daughter-in-law Karen, sons-in-law Frank and Ryan, and surrogate kids Denise and Alex. Most importantly, she was beloved "Nanny" to eight grandchildren: Jovanni, Devyn, Roan, Julia, Frankie, River, Eirinn, and Sawyer.
A celebration of Lois' life will take place in the coming months. In lieu of flowers, the family would prefer donations to Holisticare Hospice (holisticarehospice.org), with great gratitude for their service to Lois and her family.