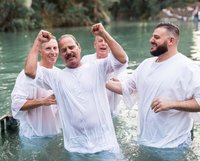 Francis Michael Donahue, III
Donahue, Francis Michael III
Went to be with the Lord Jesus Christ on April 4, 2019 at the age of 66 years.
Survived by loving friends and family.
Franks last words to his beloved:
"William Bennett a friend closer than a brother.
Diane Marie Farrell loving and compassionate sister and friend.
Rick Farrell brother and friend.
Sherry and Frank Janda sister and brother in Christ.
All of your love, caring and compassion through my final stage on this earth have been invaluable. Thank you all."
There will be no funeral or memorial please remember Frank as the blessed and highly favored man of The Almighty Jehovah.