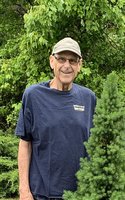 James T Paul
On Saturday June 15, James passed away peacefully surrounded by his family, after a yearlong battle with cancer.
Jim was born on February 6, 1949 in Passaic, New Jersey. Middle child to Frances and Robert Paul. He was raised in River Edge, New Jersey where he later started to raise his own family after marrying Bernadette (Heck) in 1973. They have 4 children together. Jim and Bernadette moved their family to Bloomingburg, New York in 1985. They lived there for 31 years before returning to New Jersey to retired in Toms River.
Jim was an all-star athlete in swimming and football. He was a proud member of the River Edge fire department and was the fire chief in 1981. When they move to New York he worked in heating and cooling, later he would work at Home Depot before retiring. He could often be found in his work shop tinkering and making things for the house. He took pride in his handy work and it could be found all over the home.
He was a huge advocate for sports. He loved to watch his kids play football, basketball, track, softball, baseball and swimming. He spent many hours coaching youth football in Pine Bush and little league baseball in Mamakating. He was Cub Scout leader for many years as well.
Jim loved to hunt and fish but often it was not the activity but the scenery. He could sit for hours in the woods or on the beach, taking it all in and catching a few naps. He enjoyed a good story, reminiscing or a feisty political conversation, quick with a joke or a good one liner we knew all too well. He loved the New York Yankees, college football (especially Penn State) and his cat. Jim enjoyed cooking, especially big family meals. He was a dreamer, a planner and precision packer with the best sense of direction. He was ready to jump into action at a moment's notice for his family and friends. He was challenging and difficult (he knew it) but for those who knew him he was funny, often silly and loved to tease the grand kids. He would sing and dance while cooking and his whistle could be heard a mile away.
Jim was a family man. Nothing made him happier than when his family was all under one roof. That was how we spent our last Christmas with him, all together.
At the family's request there will be a private memorial at a later date. In lieu of flowers please consider a donation to Disable Veterans at www.dav.org or the Firefighters Support Foundation at www.ffsupport.org.