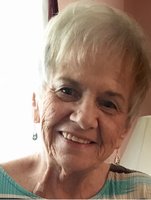 Marjorie L. "Marj" Hildebrant
Marjorie (Marj) L. Hildebrant 77, of Forked River, NJ passed away peacefully on November 27, 2019.
Marj was born in Yonkers, NY and lived in Bayonne, Scotch Plains and Fanwood, NJ, before moving to Forked River in 1976. Prior to moving here, she was employed by the United States District Court House, NYC and after that, for many years as a school secretary. While living in Forked River, she was a caregiver to numerous children and seniors in the community. She was also employed for a short time with the Southern Regional School District in Manahawkin.
Marj was an avid collector of lighthouses and carousel horses. Her favorite memories were spent boating and camping with her family, time with her grandchildren, spending days in Smithville and Cape May, decorating for Christmas, and enjoying winter snowfalls.
Marj was pre-deceased by her beloved husband of 58 years,
Jack Hildebrant in September of this year, sister-in-law Janet Vick Lewis in October of this year, brother Lee Fusselman (12'), and sister Louise Giles (06').
She is survived by her daughter Kristen and son-in-law Jermaine of Florida, son Jason of Forked River, cherished grandchildren Matthew, Sasha, Jorja, and Jackson, niece and goddaughter Jill Rebuth (Michael) of Fanwood, niece Cindy Moreno (George) of Texas, and nephews Jim Vick (Maria) of Texas and Ritchard Baus of Florida; as well as many great nieces, great nephews, and cousins.
Services will be private. In lieu of flowers, donations may be made to St. Jude Children's Research Hospital, 501 St. Jude Place Memphis, TN 38105; an organization that was close to Marj's heart, in which she was a lifelong donor.