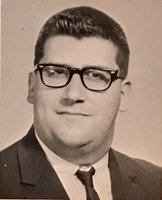 Steve Rome
Steve Rome, born in Atlantic City Hospital on July 5, 1947, died December 11, 2019 after a long illness.
He is predeceased by his father, Sydney Rome, "Rome the Tailor", and his mother Shirley Rome. He is survived by his brother Scott Rome and his wife Debra, née Gallancy.
A lifelong resident of Ventnor Heights, Steve graduated from Atlantic City High School in 1966. As a young boy, he spent many hours playing a game with his brother on Suffolk Avenue called "first base and the field", touch football and a game called "kick drive" with the neighborhood kids. He and his brother spent hours playing an indoor baseball game called Strat-O-Matic. Steve loved going to the Saturday dances on Steel Pier in his teens. He loved to dance and listen to music.
Following high school, he enlisted in the Navy where he completed boot camp in Great Lakes, Illinois. He went on to become a hospital corpsman serving in Portsmouth, N.H., Bainbridge, MD, and aboard the USS Norfolk where he completed an around the world deployment.
After being honorably discharged in 1969, he attended Stockton College where he attained his Bachelor's Degree in Social Work in 1974. Upon graduation, he became a New Jersey State employee working until as an unemployment specialist primarily in Atlantic City with other assignments including Trenton, Hammonton, and Pleasantville, until his retirement in 2001.
A lifelong baseball and football fan, he rooted for the Cubs and Bears despite listening to the Phillies on the radio every night with his father as a child. From his Navy experience he developed a love for travel, visiting many South America countries, Puerto Rico, Spain and cities such as New Orleans, Chicago, Denver, Atlanta and San Francisco.

Steve was always quick with a funny comment and tried to help those less fortunate than himself. Later in life he became the caretaker for his mother and father until their deaths.
Throughout his life he has always had a love for dogs, always adopting his dogs through the Atlantic County Animal Shelter.
A memorial service will be held on Saturday, December 21 at 11:00 AM at the VFW (Post 215), 601 N. Dorset Ave. in Ventnor Heights.