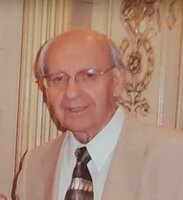 Joseph Orleski
Joseph Orleski, former longtime resident of Bayonne and Toms River, beloved husband, father, and grandfather passed on Monday, August 30th at home supported by his loving wife, Louise, at the age of 88 following some recent injuries. He was the beloved husband of Louise for 64 years. Joseph Thomas Orleski was born in Bayonne on March 25th, 1933 to Michael and Mary Orleski and was one of 11 siblings. 
Joe was a hardworking man who could always be found lovingly maintaining the family home by doing yard work, home repairs and improvement projects in his spare time. He could fix anything and make it better and stronger than new. As a young man, Joe proudly served in the United States Marine Corps during the Korean War. He will be interred at a later time at the Brigadier General Doyle Veterans Memorial Cemetery. Joe owned and operated a fence installation business in Bayonne for many years, prior to his retirement, when he and Louise moved to Toms River. Everyone witnessed Joe's exceptional dry sense of humor and he especially loved to joke around with wait staff at restaurants. He will be deeply missed by all that knew him. Survivors include his loving and caring wife Louise, loving daughter, Cyndy Marzullo, her husband, Dan Marzullo, grandson Daniel Marzullo and his Fiancée Bryn Keck, as well as many devoted nieces, nephews, and sisters in law, who greatly admired and respected him. 
A celebration of life will be scheduled in Joe's honor at a future time.